Linux on the Compaq ProLiant DL360
Note that this page was last updated in 2007. Parts of it may still be helpful, but it is now out of date.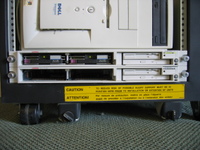 Two ProLiant DL360s
I came across two ProLiant DL360s (1st generation), and I'm using one of them as my firewall. It is a powerful but odd machine, and it's very well supported on Linux. Now that I understand the design of the ProLiant, I've come to like it in a sick way.
By the way, it took me a while to find the Compaq ProLiant DL360 Manual, so I'm including it here. It has a lot of great information. I also noticed too late that there's a lot of great information on the case lid.
The BIOS
The ProLiant DL360 reminds me a lot of the old IBM desktops with the Microchannel Architecture (MCA). Both are very well-designed systems that ignore the normal way of doing things. Slapping tradition in the face allows for more creativity in design, but it also creates confusion and support problems.
The Compaq ProLiant DL360 doesn't have a boot time BIOS configuration system. You can't hit F2 or F10 or DEL on boot to get to the BIOS. Instead, you have to use DOS/Windows programs for BIOS configuration. This isn't as bad as it seems. Compaq provides a "SmartStart" CD with such programs, and you can install a system partition which is almost indistinguishable from a normal BIOS configuration system (you hit F10 to boot to a friendly menu for all of the DOS utilities).
Starting from Scratch
If you are starting with a used machine, you don't know what its many configuration options are set to. You can easily reset all settings. On the motherboard is a set of six switches labeled SW2 used for system maintenance. The lid of the DL360 case shows where these switches are and what they do. Specifically, switch 6 ("Maintenance") which is normally Off will reset system settings on boot when it is set to On. You may also need to make sure that switch 2 is Off since configuration is locked when it is On. Resetting system settings will ensure a sane starting point.
Updating Firmware
I was able to download a Firmware Maintenance CD from hp.com. I found the CD by going to "Support & Troubleshooting." I clicked on "Download drivers and software" and typed in "proliant dl360" as the product. I selected "HP ProLiant DL360 Server" and randomly clicked on any operating system. On the resulting page was "Firmware Maintenance CD." I downloaded version 7.40. Note that 7.40 is the newest version of the firmware disk that works on the DL360; don't download version 7.50 (thanks to Knut Dyresen and Joe Hartley for this tip). If you can't find this CD, please contact me and I'll send you an ISO. If the directions on hp.com have changed, please let me know.
Once you burn the Firmware Maintenance CD, put it in the DL360 and boot. The CD will let you upgrade firmware on a variety of devices in the system.
SmartStart CD
The ProLiant SmartStart CD is basically BIOS-config-on-a-CD. You definitely want a copy of it. Note that there are several different series of SmartStart for different servers. Since the ProLiant DL360 is an older machine, it requires SmartStart 5. If you try to boot to SmartStart 6 or 7, you will get an error message, since these CDs are intended for newer servers. As of May 2006, the latest version for the DL360 is SmartStart 5.50.
I was able to find the SmartStart 5.50 CD image on hp.com, although it is oddly missing from the support page I described above. Right now, you seem to be able to find SmartStart 5.50 at this support page. If that doesn't work, the easiest way to find it is to search for "smartstart" or "smartstart 5.50" on hp.com. If you can't find it, let me know and I'll give you a copy.
Boot to the SmartStart CD. You'll see a picture so stupid you'll want to cry. After that you can change any system settings. Most likely you'll want to create the System Partition (but note that RAID configuration must already be completed). This will create primary partition 3 with size 36704 KB and id 12 (Compaq diagnostics). This partition is bootable and holds a set of system configuration utilities in the same style as a normal BIOS configuration system. It will also write a bootloader to the MBR which prompts you to hit F10 for system configuration--if you wait it will boot to the partition on the disk with the bootable flag set. If you want the DL360 to behave like a system with a normal PC BIOS, the System Partition is very close.
Installing Linux
The following are a few tips for installing Linux on the DL360.
This isn't Linux related, but when I first got my DL360, the computer couldn't detect any hard drives. It turns out that the connector from the hard drives to the motherboard had come a little loose. I reseated it, and the drives were detected.
Your bootloader (e.g. Grub or Lilo) should NOT be installed to the MBR if you installed the System Partition. Instead, it should be installed to the boot partition. For example, install Grub to (hd0,0) instead of (hd0). If you overwrite the MBR, you won't be able to hit F10 for system configuration.
The hardware RAID controller on the DL360 is a Compaq SmartArray. It uses the Linux cpqarray driver. Instead of /dev/hda or /dev/sda, the first logical disk is found at /dev/ida/c0d0, and the first partition on this disk is /dev/ida/c0d0p0 instead of /dev/hda1 or /dev/sda1.
For all 2.6 kernels before 2.6.18 (released Sep 20, 2006), there was a problem with the RAID driver in Linux. The error messages look like: "cpqarray: Finding drives on ida0", "cpqarray: ida0: idaSendPciCmd Timeout out, No command List address returned.", "cpqarray: error sending ID Controller", etc. It turns out that the RAID device would be taken by another driver (sym53c8xx) before the cpqarray driver could claim it. The change in 2.6.18 that fixes this problem can be found in this git commitdiff. Most recent distro installation CDs use an afflicted version of the 2.6 kernel. I made sure to boot into the 2.4 kernel when booting from the installation CD because if I booted into a 2.6 kernel, I couldn't use the disks. One good fix to this problem is to remove the sym53c8xx driver from the kernel (maybe you can just unload the sym53c8xx module and reload the cpqarray module?). My old fix was to recompile the kernel with the cpqarray driver built-in instead of a module. Of course, the very best solution is to get a 2.6.18 kernel. By the way, thanks to Andrew Beverley for explaining what the real cause of the problem is.
If you're still having trouble during installation, try adding "isa" to the kernel options (for Redhat/Fedora, enter "linux isa" at the boot prompt). I haven't actually tried this, so let me know if it helps.
Wicher Minnaard reports that sometimes GRUB can't find the boot partition. His solution was to hard code "(hd0) /dev/ida/c0d0" into grub's device.map and then run "grub --device-map /boot/grub/device.map", a solution he found at the Gentoo forums.
Apparently HP has released some management and diagnostic tools. I haven't heard any word about how well they work or how useful they are. Please let me know if you have tried them.
Everything else was extremely straightforward.
Good Luck
I like my Compaq ProLiant DL360 a lot. Especially for how little it cost me, it's a great little machine.
Please let me know if you have any corrections or any advice that could be added to this page to help others.